Hey there, fellow paranormal enthusiasts! We went on our first paranormal tour and investigation last year and it was an absolute blast. Since then we have kept an eye out for other ghost tours and go whenever we can. Whether you're a believer or a skeptic, we highly recommend taking one of these tours. It's a unique and exciting way to explore the unknown and experience the thrill of the paranormal.
So, in the spirit of the season, we've put together a comprehensive list of paranormal tours organized alphabetically by state. We want to make it easy for you to find the perfect tour to suit your interests and location. This resource will be regularly updated, so be sure to bookmark it for future reference. And if you know of a ghost-hunting tour that we missed, please let us know! We want to make sure that this list is as comprehensive and accurate as possible.
So, are you ready to explore the unknown and experience the thrill of the paranormal? Check out our list of paranormal tours and start planning your next adventure today!
Chasing Ghosts: A Tour of Our Fascination with Spirits and the Supernatural Take a spirited tour through the supernatural history of America, from its haunted sites to its famous ghosts to its ghost-obsessed pop culture.
Ghost Tours of Anchorage: The most haunted spots in Tombstone's Historic District will be visited on this history-packed, paranormal walking tour. The legends and lore of the Courthouse hangings, John Heath's Bisbee Massacre, China Mary's opium den, the Tombstone General Hospital where patients died excruciatingly, and much more will be revealed!
Ghosts of Historic Sitka: Take a step back in time with the "Ghosts of Historic Sitka" and learn the chilling tales of the Russian-American era. Find out why Sitka is considered Alaska's most historic city.
No ghost-hunting tours found in Wyoming yet. Please contact us if you know of one.
Downtown Lewiston Ghost Tours: Take a tour of downtown Lewiston and see areas that haven't changed in the past 100 years. Learn about Ragtown's growth from boomtown to the 1950's. See how citizens built Downtown Lewiston and explore the sidewalks below. Discover the "spirits" who lived and worked in Lewiston's "unmentionable" part. Experience historic buildings where paranormal activity has been documented.
Idaho Falls Ghost Walk: Discover stories about the early settlers, ghosts haunting downtown buildings, brothels, lost children, murders, and suicides.
G.R.I.P.S Ghost Hunts: Find out about one of the oldest river towns west of the Mississippi and discover the legends, traditions, and folklore of Dubuque as you step back in time.
Vincent House Ghost Hunt: It is one of the most haunted buildings in Fort Dodge, Iowa, and the oldest in the state. In addition to apparitions, lights turn on by themselves, objects move, unexplained footsteps, music playing, knocking, giggling, and disembodied voices, this location is highly active.
Fort Riley Annual Ghost Tours: Ghost Tours are based on the experiences of the residents of Historic Main Post. Each year, a group of HASFR hosts creates an event for Fort Riley and the surrounding communities.
US Ghost Adventures: Kansas City: Amidst the carnage of war and decades of cold-blooded murders, a whirlwind of tortured souls envelops Kansas City much like its infamous tornadoes. Uncover a never-ending bloodbath that saturated the former "Heart of America" with relentless hauntings. Join Kansas City Ghosts for an unflinching exploration of the horrendous violence and unspeakable tragedy that continues to cast fear in the hearts of locals.
Old Louisville Ghost Tours: A vast preservation district filled with old mansions and stunningly beautiful homes in Kentucky's largest city is known as Old Louisville, the most haunted neighborhood in the country.
US Ghost Adventures: Louisville: Get ready to experience the spine-tingling hauntings of Louisville like never before! Join a Derby City Ghosts tour and listen to hair-raising stories that unveil the town's tortured past. Louisville, renowned for world-famous fried chicken, baseball bats, and Kentucky bourbon, is more than just a charming Midwest town—it has a chilling reputation as one of the most haunted cities east of the Mississippi.
American Ghost Walks Maine: Throughout Bar Harbor, Boothbay Harbor, and Camden, we have long-time local guides who know all about the haunted places, from old burial grounds to haunted waterfronts and downtowns. You can expect plenty of history on our walking tours in Maine, as you experience tales of some spirits active for centuries, as well as legends and reports of modern hauntings. We keep Maine as mysterious as it is beautiful.
Bar Harbor Ghost Tours: As professional storytellers, we bring history to life…and to death. We take you to the most haunted and historic places in downtown Bar Harbor.
Wicked Walking Tours: A lone, professional actor/comedian guides you through Maine's dark history. More than a tour…and almost year-round!
Chesapeake Ghost Tours: A year-round trail of 11 ghost walks in different historic towns, paranormal investigations, storytelling sessions, and bus tours along Maryland's Eastern Shore.
US Ghost Adventures: Annapolis: Step into the eerie world of Annapolis on a thrilling ghost tour and immerse yourself in tales of terrifying hauntings. Uncover a dark and tormented past that has haunted this city for centuries. Join the Ghosts of Annapolis as we delve into the grim history of this place, rooted in its Puritan origins. Prepare to come face to face with the specters of bloodthirsty pirates, who once prowled the lively ports in search of treasure, unaware that their pursuits would ultimately lead to their ominous demise.
US Ghost Adventures: Baltimore: War, mystery, and the unexplained have cast a shadow over Baltimore's past and continue to poison its present. Join us to uncover the unsettling reasons why Baltimore fears the ghosts that linger around its harbor. Steeped in maritime history, tragedy, and death, Baltimore was a city where even pirates and cut-throats dared not venture. Embark on a Baltimore ghost tour to explore this dreaded outpost and immerse yourself in a history drenched in black deeds, dark waters, and vengeful spirits. Prepare for an eerie adventure into the heart of a city with a haunting past!
Hanz Holzer's Travel Guide to Haunted Houses: A Practical Guide to Places Haunted by Ghosts, Spirits and Poltergeists The only practical travel guide on the subject ever published, this book provides useful and current information on haunted places--complete with addresses, instructions for finding sites, historical background on the place and region, what to look for when you get there, and what to expect once you've had an encounter.
Ghosts of Grand Rapids Tours: Come experience Grand Rapids history mixed with the paranormal world with the authors. Each tour guide will portray a member of the city's past to enhance the historical experience.
US Ghost Adventures: Detroit: Detroit, the "automobile capital of the world," gave birth to the smooth sounds of Motown and the deafening screams of violence and death that continue to haunt Michigan's notorious Murder City. While Eminem brought us stories from 8 Mile, the real truth about this metropolitan area conceals a darker and grimmer reality, one that has led to the spine-tingling hauntings of Motor City. Join Motor City Ghosts and delve into the disturbing details of the tragedy and sinister acts that forged a curse so potent that not even Houdini could escape its grip. Prepare for a chilling journey into the heart of Detroit's haunting history!
American Ghost Tours Minnesota: Under Minnesota's placid surface, there are plenty of haunting tales hidden beneath its 10,000 lakes and Midwestern hospitality. On our guided walking tours of St. Paul, Minneapolis, and Stillwater, you can witness vengeful ghosts, Native American legends, and paranormal encounters.
US Ghost Adventures: St. Paul: Our St Paul Ghost Tour takes you through historic Summit Avenue to discover the families, fortunes, and misfortunes of some of St Paul's famous writers and residents. Moreover, some St Paul homes may have been home to ghosts who chose to stay rather than leave. It is likely that you will hear stories of romance, love, affairs, and mistrusts.
Glenfield Plantation Candlelight Ghost Story Tours: The Candlelight Ghost Tour is offered every evening at Glenfield. There are two times to choose from 7:00 pm and 8:30 pm. Tours last approximately one hour inside. A complimentary beverage is offered to guests upon arrival.
Haunted Holly Springs Tour: Experience one of North Mississippi's best ghost-walking tours and hear spine-tingling tales of restless spirits, murder, plague, and creepy haunted homes, museums, churches, and cemeteries!
Mystic Ghost Ride Company: Get ready to ride a ghost boat in the midst of the marsh mist on our historical ghost boat and walking tours in Bay St. Louis. All ghost boat tours depart from the no-name marina.
Southwest Montana Ghost Tours: Ghost history can be found in nearly every town throughout Southwest Montana, but finding a guided tour led by locals is the best way to truly immerse yourself in it. Those who live in Southwest Montana know the area, its stories, and its nuances better than anyone else. Here are a few haunted tours that you can take.
Lincoln Historical Ghost Quest: The Lincoln Historical Ghost Quest offers ghost tours, mini paranormal investigations, and private ghost tours in Lincoln and the surrounding area.
Midwest Paranormal History Tours: Discover the macabre legends, lore, and facts of Omaha's sinister past, while visiting some well-known (and some not-so-well-known) haunted locations.
Las Vegas Ghost City Tours: Our spooky tour will start with an introduction to Las Vegas' haunted past, followed by a visit to some of the city's most haunted locations.
Virginia City Ghost Tours: Feel the chill of the ghost of Comstock.
US Ghost Adventures: Las Vegas: Welcome to Sin City, where living is easy, money flows like water, and the fun never stops. This desert oasis has been a pilgrimage for pleasure seekers for generations. Las Vegas draws people for various reasons — to try their luck at gambling, to indulge in some flirtation, and to immerse themselves in the surreal atmosphere (not to mention the libations). However, one of the best attractions that often goes overlooked is its haunted history.
No ghost hunting tours found in New Hampshire yet. Please contact us if you know of one.
Madame Morbid's Trolly Tours: Visit Brooklyn's most popular neighborhoods while learning about local legends, ghostly encounters, and true crimes.
US Ghost Adventures: Atlantic City: Uncover the secrets of America's Playground, where death holds all the cards, and life is a game of chance. Peer beyond the dazzling facade of Atlantic City's glitz and glamour to reveal the darkness that lurks beneath. In this boardwalk empire where outlaws ruled and beggars rose to become billionaires, entertainment and pleasure often gave way to despair. Join Atlantic City Ghosts on a thrilling ghost adventure to unveil the chilling reasons why this city stands as one of the most haunted locations on the coast. Get ready for a spine-tingling exploration of Atlantic City's haunting history!
The Original Santa Fe Ghost Tour: Peter Sinclaire has led this tour since 1993. He has interacted with over 20,000 ghostwalkers, so on the tour you will hear about tour participants' experiences with Santa Fe's spirits and the spirits themselves.
US Ghost Adventures: Albuquerque: Explore the spine-tingling mysteries of Albuquerque's Old Town, a city with a haunted history lurking along the legendary Route 66. Walk in the footsteps of the past as we journey through centuries of bloodshed, illicit escapades, and financial chaos that have molded this historic villa into a ghostly hotspot. Let Albuquerque Ghost Adventures be your guide to uncover the chilling tales of the city's most tortured and restless spirits in one of the wildest, most haunted old towns in the West. Get ready for a hauntingly good time!
Boroughs of the Dead: The Boroughs of the Dead specializes in strange, dark, and unusual walking tours of New York City.
NYC Ghost Tours: Join us for a tour of New York, the City That Never Sleeps, and discover why it really never sleeps. We'll visit haunted places such as the homes of Mark Twain, CNN anchor Anderson Cooper, and Aaron Burr, as well as stories and hauntings related to the Revolutionary War and the Prohibition era.
No ghost-hunting tours found in North Dakota yet. Please contact us if you know of one.
Nightly Spirits Cincinnati: Over 230 years of stories await you in the "Queen City of the West," and Nightly Spirits Cincinnati is ready to tell them to you. From the oldest bar in Cincinnati to historic buildings hiding dark secrets, through a beautiful public park built right over the dead, and into some of the creepiest bars in the city, we will explore Cincinnati's Over-The-Rhine neighborhood.
US Ghost Adventures: Cincinnati: Despite Cincinnati's enduring Midwest charm, the city hides a history of shocking hauntings. Even with an unending supply of beer and baseball, the echoes of victims from Cincinnati's tortured past refuse to be silenced. Join a Cincinnati Ghosts tour and dive into the city's most gruesome stories to uncover the reasons it has become so royally haunted. Get ready for a journey that will reveal the dark secrets lurking beneath the surface of this charming Midwestern city!
US Ghost Adventures: Cleveland: Cleveland, the proud home of the Rock n' Roll Hall of Fame and the creators of Superman, has a claim to fame that's even more spine-tingling—the real-life hauntings and terrifying ghost stories that have emerged from its tragic past. If you're ready for an unflinching look into the horrific hauntings echoing through its halls of history, join a spine-tingling ghost tour of Cleveland. Walk in the footsteps of American Civil War soldiers and the famed detective Eliot Ness. Uncover unsolved murders, visit desecrated hallowed grounds, and reveal lives destroyed by the darkness that consumes this haunted metropolis in Ohio. Get ready for a chilling adventure through Cleveland's haunted legacy!
No ghost-hunting tours found in Oklahoma yet. Please contact us if you know of one.
Portland Ghost Tours: Explore Stumptown's dark streets to hear about the ghosts that make Portland one of the most haunted cities on the west coast.
US Ghost Adventures: Deadwood: Venture beyond the notorious Black Hills and step into the toughest town of the Wild West, a place forged in the fires of gambling, gunslinging, and bloodshed. Join us to discover why the spirits of Deadwood's past still dominate the realm of the living. Walk the very grounds that once catered to the most infamous outlaws and wicked personalities of the Wild West, where the likes of Wyatt and Morgan Earp, Calamity Jane, and Al Swearengen left behind legacies that have been immortalized time and again. Take a Deadwood Ghosts Tour and peel back the layers of history, particularly the haunted kind, in this enduring town that continues to make history. Prepare for a haunting journey into the heart of the Wild West!
No ghost-hunting tours found in Utah yet. Please contact us if you know of one.
Queen City Ghostwalk: Join author Thea Lewis (Haunted Burlington, Haunted Inns and Ghostly Getaways of Vermont, and more) for a journey through history on this perennial favorite. As one of New England's best haunted walks, this tour features some of Burlington's most infamous characters and intriguing haunts.
American Ghost Walks Wisconsin: Our walking tours in Madison, Milwaukee, and throughout Wisconsin cover plenty of ground and even more of the haunted history of our home state, including haunted hotels, theaters, and ghost stories.
US Ghost Adventures: Madison: Sinister spirits and ungodly creatures claim dominion over the darkest corners of Wisconsin's capital. Follow their trail of terror and unveil the legacy of hauntings that give a heart-pounding new meaning to Madison's nickname, "Mad City."
US Ghost Adventures: Milwaukee: In the town where beer, baseball, and bratwurst reign supreme, there are more menacing pastimes brewing beneath the surface. Dare to uncover what shackles the restless spirits to Milwaukee's cursed past. Join Brew City Ghosts to unveil the strange and fascinating dark history of Brew City. Beyond the tangy taste of IPAs and the cheers of baseball games, there's a poison that simmers at the very core of haunted Milwaukee. Get ready for a spine-tingling exploration of the city's eerie legacy!
US Ghost Adventures: Cheyenne: Get ready to confront the sinister spirits of Cheyenne! Brace yourself for terrifying tales of tragedies, murders, and unsolved mysteries that haunt Wyoming's capital. Step into the world of real hauntings and unflinching accounts of the sordid, chilling, and unexplainable. As you journey back in time to the Wild West on a thrilling Cheyenne ghost tour, you'll experience the eerie history firsthand. Discover for yourself why this forsaken railroad town is renowned as one of the most haunted locations in the West. Prepare for a spine-tingling adventure you won't soon forget!
A Haunted Road Atlas: Sinister Stops, Dangerous Destinations, and True Crime Tales Pack up your Ouija board, wine bra, and squirt guns full of holy water ... we're going on a road trip! From the hit podcast And That's Why We Drink, this is your interactive travel guide to the hosts' favorite spooky and sinister sights.
There you have it, all the best ghost-hunting tours that we could find in America. If you are looking to experience a bit of supernatural fun you should be able to find something here that is perfect. Please bookmark this list, as we will be adding to it and keeping it accurate as much as possible.
Stay spooky!
Q:

Don't see your ghost tour?

A: We apologize. We do our best to include as many listings as we can but we can't find them all. Just email us at info@adventureite.com or contact us on Twitter and we will get it added right away.
Q:

Want to advertise on this page?

A: We don't sell advertising on most pages but if you are interested in getting a better placement or links to your social media or other special features we are happy to help out. Just email us at info@adventureite.com and we will work with you to ensure you are happy.
By Summer and Bill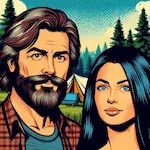 Summer and Bill are the dynamic duo behind Adventureite.com, a blog dedicated to inspiring others to explore the great outdoors. With a combined lifetime of experience traveling and adventuring across America, they have a wealth of knowledge to share. From hiking to camping, kayaking to travel, Summer and Bill are passionate about helping others discover the beauty of the natural world.