Yesterday I stumbled across the Holiday 100 from Google showing the 100 trending gifts for this year. I though I should share it since it's pretty cool. I and even found several great gift ideas for friends and family. Hopefully you will too. Of course the full list has 100 gift ideas but these were the ones that we liked the most. If you see anything else on the list that you think is amazing please let us know and we can add it below.
Hands-free leashes are pretty neat. You can attach the leash to your waist or shoulder, so you don't have to hold it in your hand. That way, you can keep your hands free for other things, like holding a coffee or taking pictures of your dog being cute. They look especially nice for runners or hikers. I'm 100% not a runner but I've considered getting one for hiking. If you get one let me know and watch our blog for updates when we get one.
Tuff Mutt Hands Free Dog Leash For Running That Makes A Great Waist Leash for Dog Walking, Double Handle Bungee Leash with Reflective Stitching and Adjustable Dog Walking Belt
Sticking with dog gifts (we're not the only ones who buy gifts for our dogs are we?) another trending gift is winter dog shoes. Winter can be ruff on your pup's paws. The cold weather, snow, and ice can cause dryness, cracking, and even frostbite. That's why it's important to protect your furry friend's feet with a good pair of winter shoes.
QUMY Dog Shoes for Large Dogs, Medium Dog Boots & Paw Protectors for Winter Snowy Day
Let's switch over to your feet now. This year Sorel boots are a trending gift, and for a great reason. They're warm, waterproof, and stylish. But with so many different styles and features to choose from, it can be hard to know which pair is right for you. You may be able to get away with cheaper winter boots for your normal daily activities but for serious winter activities you will want to pay a bit more for much better quality.
We don't shop at Wayfair but we do understand why portable grills are a trending gift. With many campsites not allowing fires having a portable gas grill is becomming more and more necessary. Our family has used Coleman grills forever and we swear by their quality and reliability. It doesn't hurt that they are also cheaper than many of the other options as well.
Coleman Tabletop 2-in-1 Camping Grill/Stove, 2-Burner Propane Grill & Stove for Outdoor Cooking with Adjustable Burners & Pressure Regulator, 20,000 BTUs of Power for Camping, Tailgating, Grilling
The Solo Stove Mesa is a portable smokeless fire pit that's perfect for anyone who loves spending time outdoors. It's made of durable stainless steel and has a unique design that allows air to circulate around the fire, which helps to create a more efficient burn. This means that you'll get more heat and less smoke, so you can enjoy your fire without having to worry about getting choked out.
Solo Stove Mesa Tabletop Fire Pit with Stand | Low Smoke Outdoor Mini Fire for Urban & Suburbs | Fueled by Pellets or Wood, Stainless Steel, with Travel Bag, 6.9 x 5.1 in, 1.4lbs, Deep Olive
Bocce ball is a fun and easy game that can be enjoyed by people of all ages. It's a great game to take camping because it packs up nice and neat, only takes a few moments to set up, and is a great way to get some exercise. Since it doesn't require a lot of space it is also a lot of fun to play in the back yard or neighborhood park.
ApudArmis Bocce Balls Set, Outdoor Family Bocce Game for Backyard/Lawn/Beach - Set of 8 Poly-Resin Balls & 1 Pallino & Nylon Carrying Case & Measuring Rope (90mm)
Are you ready to retire the sad coolers you have been using for years? Or do you know someone else who is? Well, apparently a lot of us do because Yeti Coolers are on the list of trending gifts this year. They may be a bit pricy but they are the best coolers on the market and they will last you for years. If you ask me it's worth the investment.
When we went on vacation when our kids were little we would often give them disposable cameras. It was always amazing seeing the pictures that they would take. I haven't thought of that in years but luckily I saw these instant print cameras on the list of trending gifts. Let's just say that some lucky kids will be having a lot of fun this year at the family Christmas party.
ESOXOFFORE Kids Camera Instant Print, Christmas Birthday Gifts for Kids Age 3-12, Selfie Digital Camera with 1080P Videos,Toddler Portable Travel Camera Toy for 4 5 6 7 8 9 Year Old Boys Girls-Blue
Since moving to New Mexico I have developed a new-found appreciation for neck fans. If you know anyone who likes to be outside during the hot summer months they will love this gift. If you get one for yourself as well I won't tell anyone 😃
ASNUG Neck Fan, USB Rechargeable Personal Fan, 4000 mAh Battery Operated, 3 Speeds Adjustable, Faster Cooling, Ultra Quiet, Suitable for Home, Office, Travel, Sports
I hope that this gave you some fun new gift ideas. I guess I shouldn't be surprised that Google is sharing this information, but I didn't expect it. Luckily we wait to the last moment to shop so we were able to take advantages of several of these trending gifts. If you got any great ideas we would love to hear about it on social media. Thanks for reading and have a great holiday season!
By Summer and Bill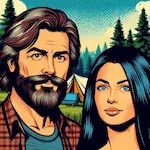 Summer and Bill are the dynamic duo behind Adventureite.com, a blog dedicated to inspiring others to explore the great outdoors. With a combined lifetime of experience traveling and adventuring across America, they have a wealth of knowledge to share. From hiking to camping, kayaking to travel, Summer and Bill are passionate about helping others discover the beauty of the natural world.